Our Veterinarians
Prestige Animal Clinic has a skilled team of veterinarians who welcome you to our practice. Proudly serving the Gilbert. At Prestige Animal Clinic, it is our daily privilege to provide quality vet care to your cherished pet, with compassion and competence. We hope to ensure a positive impact on our patients, pet owners and the local community. 

Dr. Carter
Dr. Carter is an Arizona native. Originally from Safford, he made his way to Mesa and finally settled in Queen Creek with his wife, Tori, daughters, Kansas and Addi, his three dogs, Gator, Turk and River, and his horses and goats. In his spare time he enjoys spending as much time as possible with his girls, watching them cheer, dance, ice skate and swim.
Dr. Carter has been deeply passionate about animals his whole life, especially horses and ranching. He attended Farrier School in 1999, ASU for this Bachelor's Degree in Agriculture Business. In 2016 he graduated from Washington State University with a doctorate in veterinary medicine. Since he began practicing, he has worked tirelessly to give his patients the best possible care. He has a special interest in internal medicine, theriogenology and general surgery.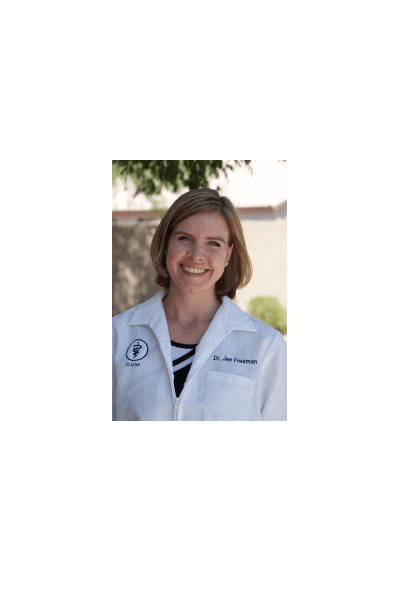 Dr. Jennifer Freeman
Originally from the midwest, Dr. Freeman transplanted to Gilbert, Arizona in 1989. She graduated from Gilbert High School (Go Tigers!) in 1993. She then attended the University of Arizona before attending Colorado State University for veterinary school. She graduated from Colorado State University in 2000 with her Doctor of Veterinary Medicine (DVM) degree Summa Cum Laude (top of her class). She then completed an intensive one year internship at Mesa Veterinary Hospital working with specialists in multiple areas of veterinary medicine. She then stayed on with Mesa Veterinary Hospital for 3 more years as a general practitioner before moving over to Power Road Animal Hospital in 2004. Dr. Freeman began working at Prestige Animal Clinic in June 2006.